I love Oakham; indeed I love Rutland. When we first moved to Leicestershire 20 years ago, Uppingham was my local town. I remember discovering the Fatstock show with delight, and spent many a happy hour (no, not that sort of Happy Hour) perusing the art galleries and antique shops there. This led to a handful of Uppingham paintings. https://shop.mikkilongleycreative.com/products?utf8=%E2%9C%93&search=uppingham
Exploring a little further, I discovered bustling Oakham, of which I'm now launching a new collection of paintings.
For such a beautiful town, it amazes me that I've only painted Oakham once before this. That was for a commission - the clients got married in the castle.
In the new collection of three paintings, I've captured the castle (one of my fave books - though I can assure you that I'm not writing this sitting in the kitchen sink), the Buttercross, and the market.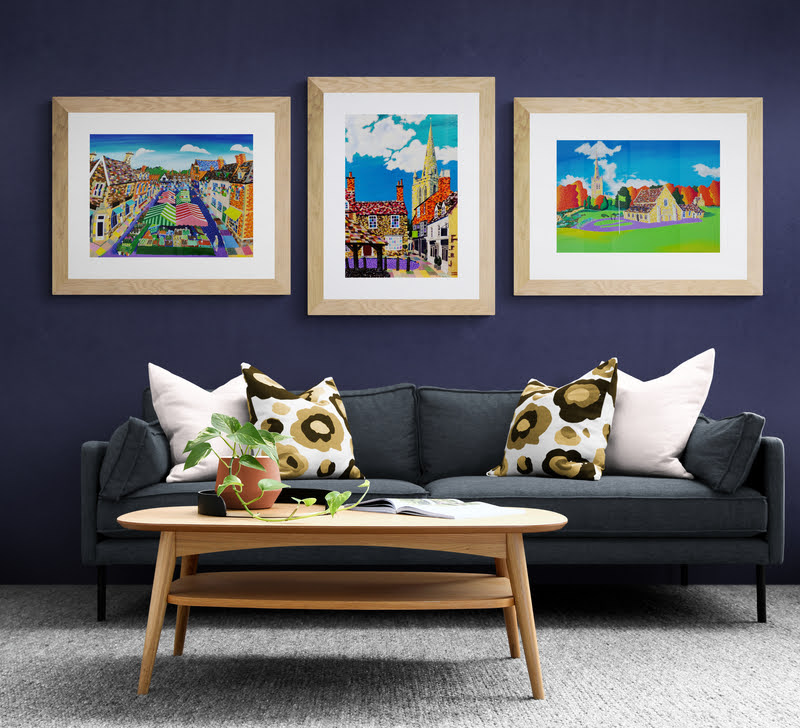 All three paintings are in acrylic paint; Oakham Castle and the Buttercross are on wooden panels, and the Marketplace is on paper.
The two paintings on wooden panels could be hung straight on the wall as they are; ideal for smaller spaces, or, alternatively, I will have them framed using a tray frame - see photo for an idea of how this could look.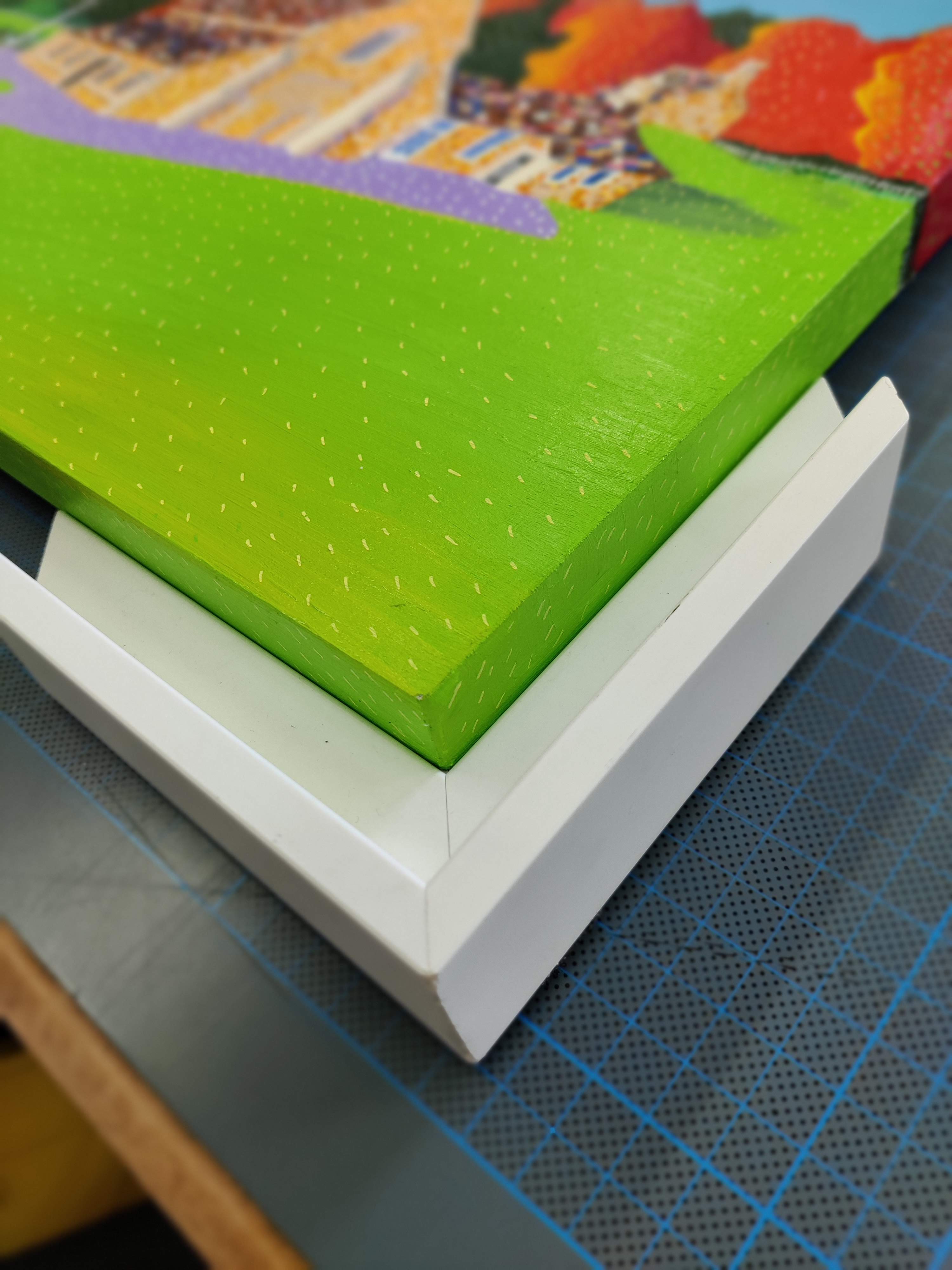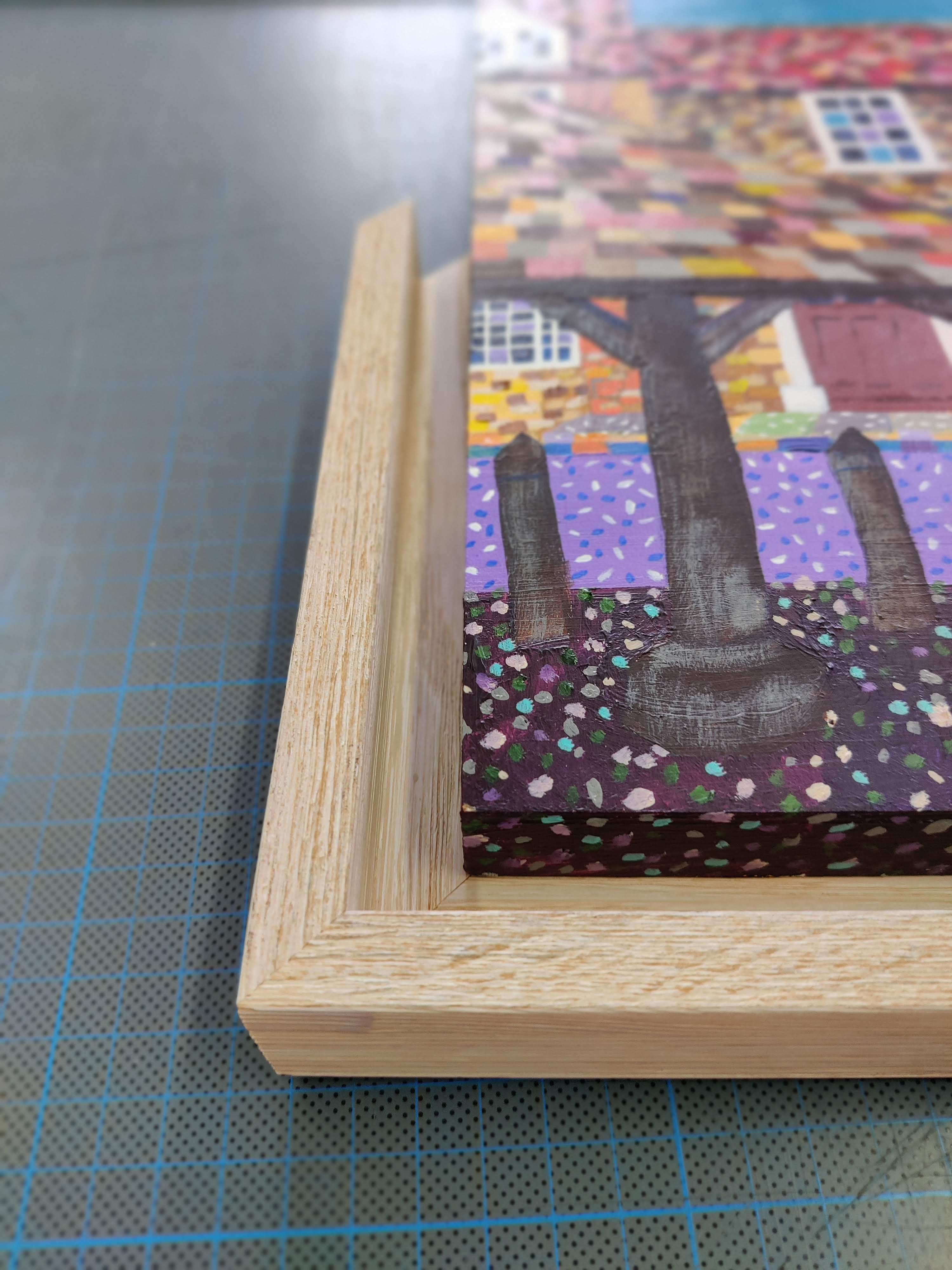 The Marketplace painting captures the vibrancy of market day, with a little artistic licence perhaps to add more graphic colour to some of the stalls. The two sides of the street are linked by my trademark bunting.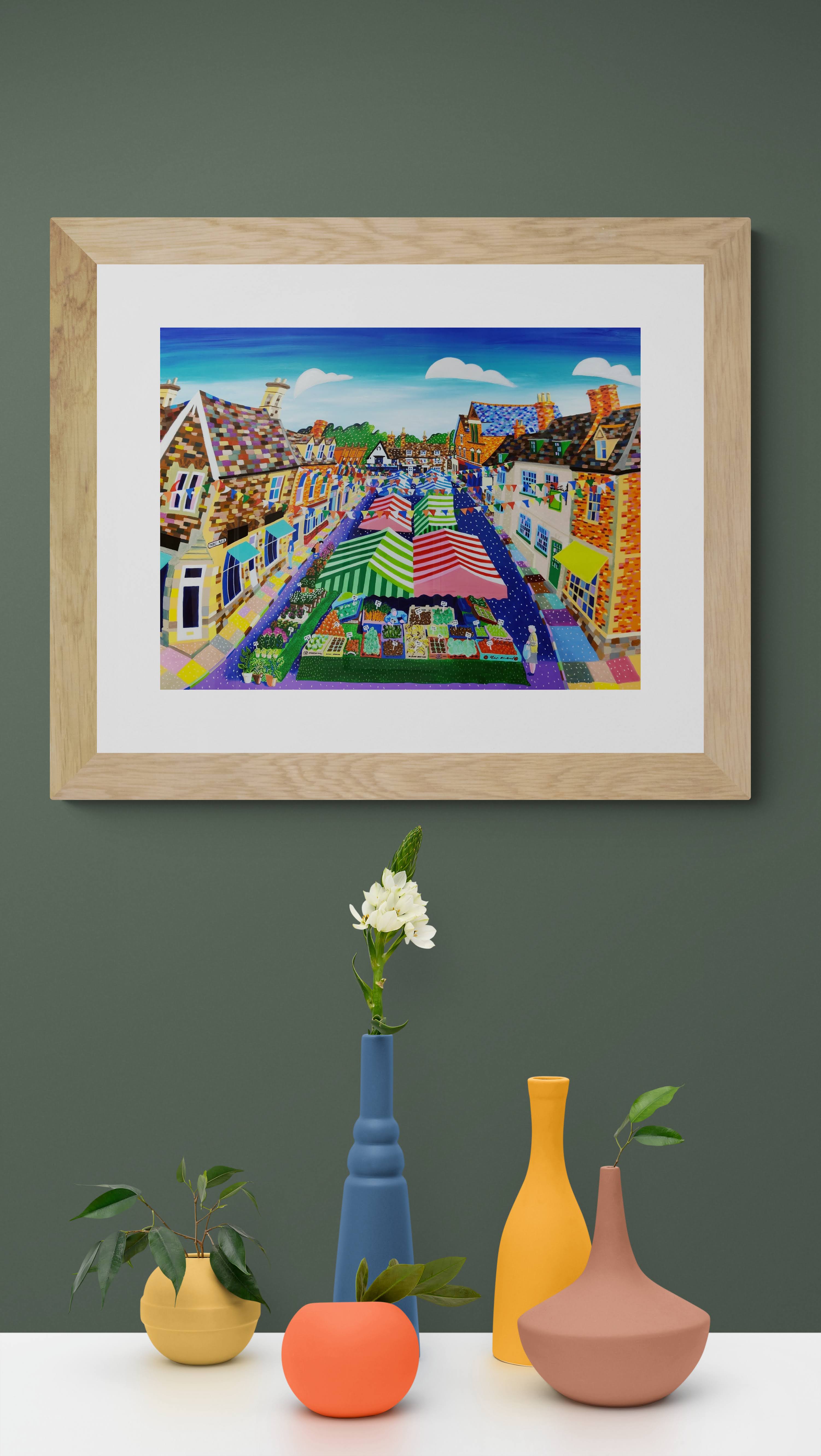 Oakham Castle is bang up to date as it includes the new sensory garden. Viewed from the castle mound, it also shows the Rutland flag flying, the church of All Saints, and the Oakham Old School to the right.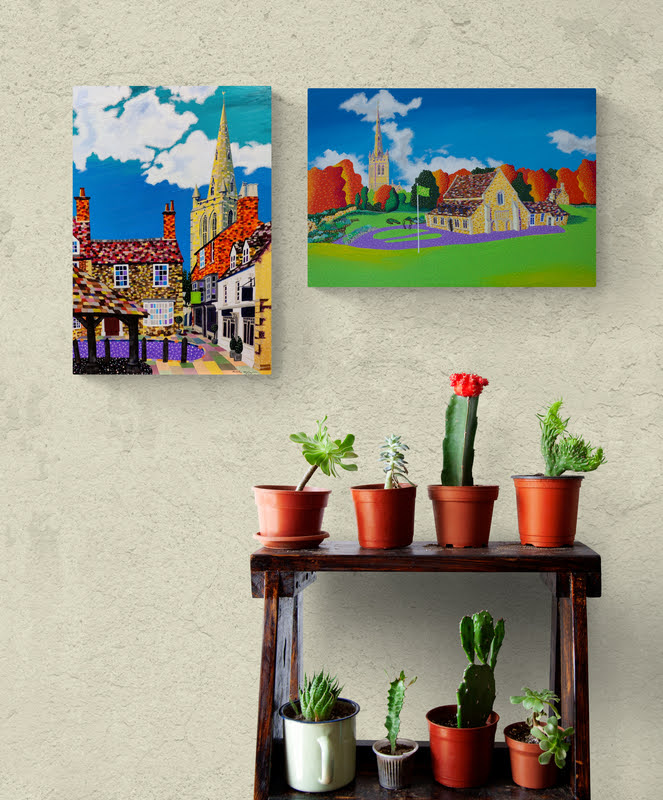 The painting of Oakham Buttercross explores the very graphic qualities of the fine mix of building materials evident and the pattern and texture that they offer. This delightful corner frames All Saints Church, making for a pleasing composition.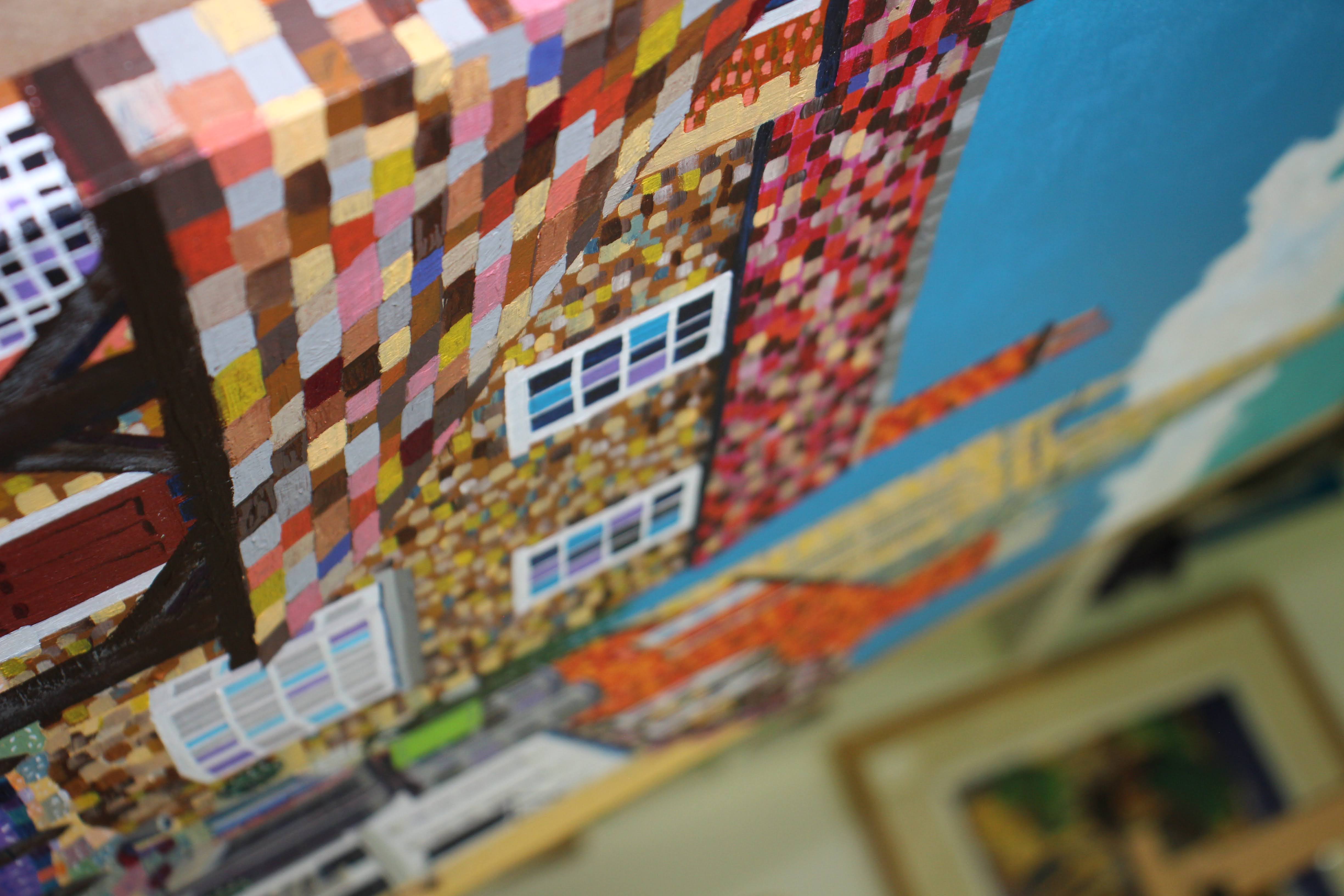 All three paintings are available (at the time of posting) as original pieces and as signed prints.
https://shop.mikkilongleycreative.com/category/original-paintings
https://shop.mikkilongleycreative.com/category/art-prints-the-rutland-collection
I've really enjoyed painting these pieces and I hope you'll love them too.
Feel free to get in touch if you'd like to browse the collection at my Studio Gallery in Market Harborough.
As always, because I love to listen to music while I paint in my studio, here's a playlist to accompany the paintings:
Vital Signs: Frank Turner
Small Town: John Mellencamp
Down to the Market: The Kooks
Senses Working Overtime: XTC
Pattern: The Last Shadow Puppets, Alex Turner, Miles Kane
The Rutland Reel/Sack the Juggler: Fairport Convention
English Town: Matchbox Twenty